Gigapanorama de 3.44 gigapixeli si time lapse in timpul primului eveniment sportiv din Sala Polivalenta din Cluj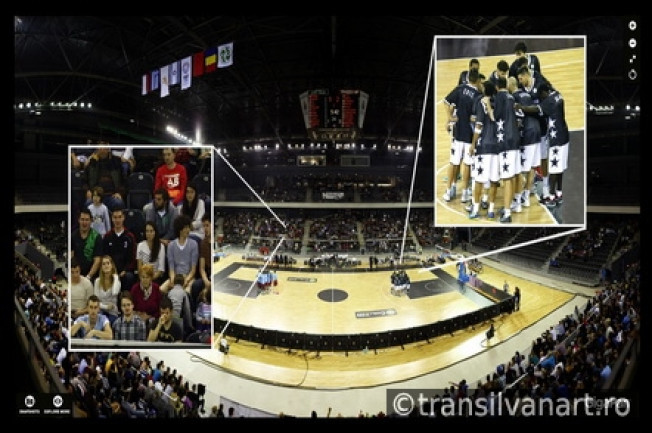 In 11 noimbrie 2014 am fost prezenti in Sala Polivalenta, la meciul de baschet, de inaugurare sportiva a salii, dintre U Banca Transilvania Cluj-Napoca si Trabzonspor Medical Park din Turcia. Scopul nostru a fost documentarea fotografica a evenimentului sportiv si a atmosferei meciului in general, printr-o panorama de rezolutie foarte mare (gigapanorama).
Pentru o redare cat mai corecta si pentru o detaliere cat mai amanuntita, s-au realizat 322 de fotografii cu un aparat full frame, imaginile fiind ulterior imbinate intr-o singura panorama cu o rezolutie de 3.44 gigapixeli.
Dupa deschiderea gigapanoramei, mariti imaginea, dar cu un pic rabdare, pana imaginea se face clara. Pentru o vizualizare optima, recomandam optiunea full screen.
Fiind realizata din mai multe sute de cadre, pe panorama apar desigur probleme de imbinare si persoane "dublate" (de exemplu jucatorii).
Datorita rezolutiei foarte mari, panorama se poate mari de nenumarate ori, iar daca ati participat la eveniment, cu siguranta va veti regasi foarte usor in public, atat pe dvs. cat si pe prieteni.
Gigapanorama poate fi vizualizata mai jos:

In paralel cu realizarea gigapanoramei am realizat si un time lapse care surprinde umplerea tribunelor arenei cu suporteri.
Time lapse-ul poate fi vizionat mai jos. Recomandam varianta HD.
Time lapse of a sport arena seats filling up with crowd of people during a basketball match. Cluj Napoca, Romania from TransilvanArt on Vimeo.
La realizarea acestui proiect foto datoram multumiri clubului de baschet U Mobitelco Cluj si colegilor de la Spotphoto Imagery si Captureit.ro.
Un proiect asemanator realizat in Arena Nationala din Bucuresti, la meciul de fotbal dintre Dinamo si Steaua Bucuresti, poti vedea aici:
http://www.transilvanart.ro/2014/05/20/gigapanorama-cu-cea-mai-rezolutie-realizata-la-un-eveniment-sportiv-din-romania/